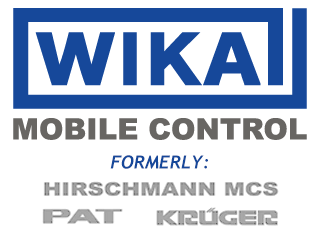 WIKA Mobile Control (formerly Hirschmann MCS, PAT, and Kruger) provides extensive crane and mobile machine safety through their vast range of products, including individual components all the way to full system integration. Specializing in force, pressure, and temperature measurement in the challenging field of mobile machines, WIKA Mobile Control has designed products that bring the peace of mind and competency that you would expect from a company with such a long history.
Search the vast inventory available here at Basil Equipment with the knowledge that we can uniquely provide expedited shipping so your jobs stay on schedule. If you are interested in a full WIKA Mobile Control Load Moment Indicator (LMI) system, please fill out the form below to be contacted by our team with a quote.
If you are interested in ordering a whole system, please fill out all the required information below, and our team will contact you shortly with a quote. The provided information is necessary to configure the hardware and software correctly.